On this page, we'll walk you through setting up your account and key features. Scroll down or skip ahead to:
Setting Up Your Account
Getting started with your new, upgraded experience is quick and easy with these simple steps.




Test your video stream, Moments, and other features you'll be using. Consider pulling in key leaders and volunteers during this test or take screenshots or video to use to train hosts.
Pick your move date. Decide your migration date and plan the next steps accordingly.


Migrate users. The week you're ready to migrate, export your user list from Version 3 and upload to Version 4. Your attenders log-in information like emails and passwords will transition over, and they'll be able to log in as usual to your church experience. Communicate to your attenders about the transition and let them know how to reach out if they have questions.


Shut down Version 3. If you are using a churchonline.org

URL, you can utilize the Shutdown feature, which will turn off your Version 3 account and redirect all attenders to your new Version 4 URL.
Upgraded Features—Version 4

Slides are now Moments
Moments are similar to the functionality of slides. They allow you to lead your attenders to take a next step. Moments show up in the chat feed on desktop and mobile, and some, like the Salvation Follow-Up Moment below, open in an iFrame that engages your attenders while keeping in your online service.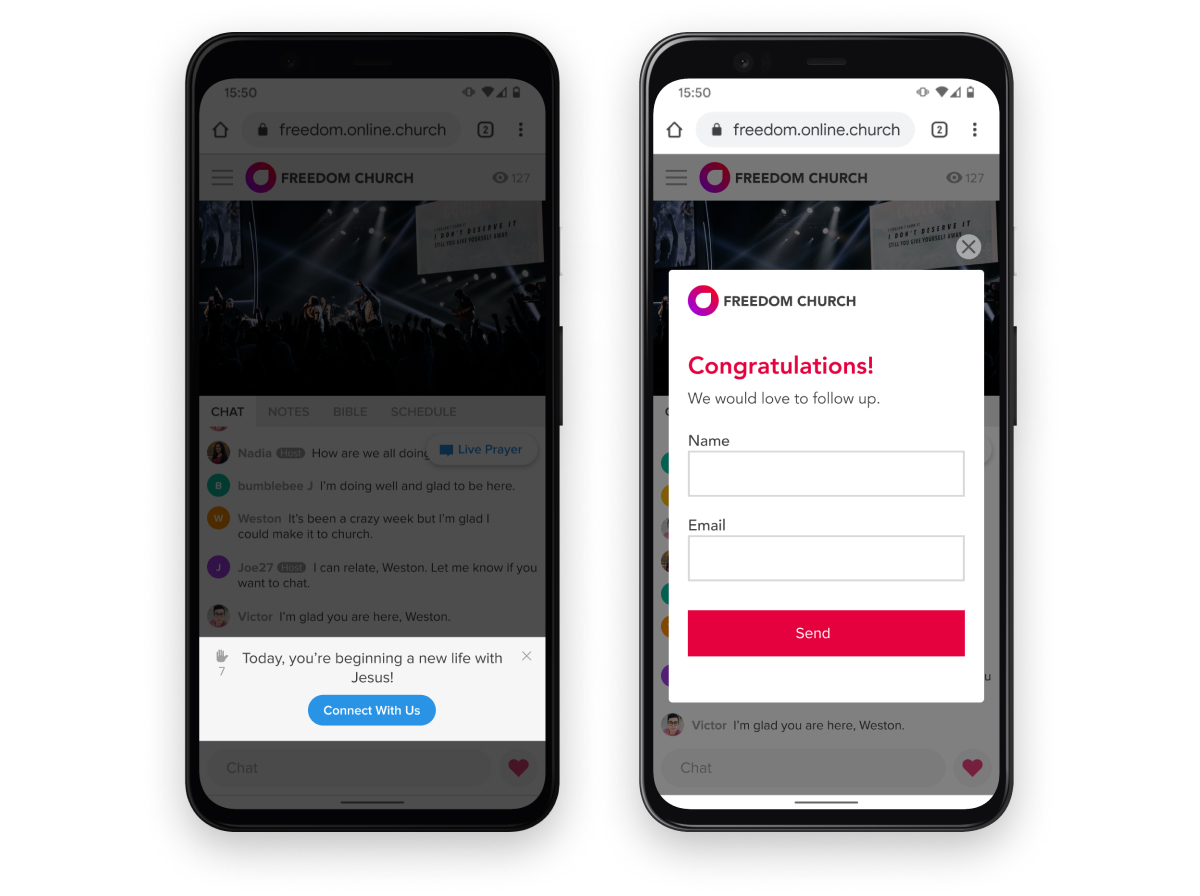 Learn more about Moments, including Salvation, Give, Invite, Connect, and Quote Moment.
Enhanced Analytics
To help you see the impact of your online ministry, we've enhanced the analytics dashboard with more of the information you need to measure engagement.


Note: Attendance in Version 4 of the platform is tracked differently than Version 3. Version 4 tracks the number of unique attenders while Version 3 tracks total user sessions.


Compare to Social Platforms
With stats like 3-second, 10-second, and 30-second attendance, you can easily compare attendance to other platforms like Facebook and YouTube.

Engagement Data
In addition to attenders and time spent watching, see engagement metrics for Moments, chat, and prayer.
Brand-new: Integrations
Version 4 features Integrations that allow you to reach more, do more, and serve more through your third-party tools. See our list of current integrations with more coming soon!
Upcoming Features
Our team is continuing to build and release features in the new platform. Below are features coming soon. Sign up to receive our product emails and know when we're releasing new features.


If you have feature requests or feedback about features, we'd love to hear them! Our team spends time weekly going through your suggestions. As you make recommendations, it's helpful to not just share the feature idea, but also the problem you're trying to solve.


What do we do with feedback and feature requests? Hear Clayton and Eric share our process in this short video.
Frequently-Asked Questions
Q: When do I need to upgrade to Version 4?
A: We're so excited for your church to upgrade to Version 4 of the Church Online Platform. We're releasing new features and integrations to help you reach more people for Jesus! As we work to sunset Version 3, all churches will need to upgrade to Version 4 by July 31, 2020. Version 3 will not be available after this date.
Q: Does my church online URL change?
A: Yes, Version 4 is built as a separate platform, so your URL will change. If you use a custom domain, here's some additional information.
Your Version 3 URL will be: yourchurchname.churchonline.org
Your Version 4 URL will be: yourchurchname.online.church
Q: Will I have access to edit the HTML/CSS in Version 4?
A: We love seeing how churches like yours have innovated to create custom features that allow you to better engage with your church online audience. Our heart is to continue to build and release features that allow you to engage and lead your online attenders to their next steps.

With Version 4, our team is continuing to develop new features and we're pushing out regular updates. With this new continuous deployment model, HTML/CSS access is not feasible—and here's why. When custom HTML/CSS is injected and our team pushes out new code, features built with custom code or in some occasions, your complete church online service, can break. This simplification allows us to push more features faster without breaking custom code.


From a theming standpoint, you will continue to have the ability to use your church logo and custom colors that match your branding. For other functionality that has been built through custom HTML/CSS, in Version 4 we are looking to solve these through platform features and integrations that are available to all churches while also supporting the continuous deployment model.


If you have feature requests, let us know by completing this form. It's so helpful for our team to know what innovative ideas you have and what functionality your church would like to have built into the platform. Sharing the why behind some of your custom code features allows us to come alongside your church to create integrations that help you achieve the same ministry impact, but in a different way.
Q: Can I create custom roles in Version 4?
A: To help simplify the admin/user permissions, we have created pre-set permissions. Custom user roles are on our radar as a potential feature release. If custom roles are a significant feature for your ministry, we'd love to learn more in this form.
Q: Do I still have access to the map feature in Version 3?
A: We currently do not have the map feature in Version 4. If you feel like it would add value to your online ministry, please let us know.
Life.Church Upgrades to Version 4
Life.Church runs 90 services each week with hundreds of volunteers who make that happen. Replay our Facebook Live with Ben Matthews and Ryan Sharp, from the Life.Church Online team, to hear them discuss how Life.Church upgraded to Version 4.
Need help with your upgrade?
As always, if you need help our Support team is available to answer your questions.